The Huts
A boutique Bali hotel for lovers of art and all things unconventional
We offer an unrivaled unique art inspired experience when you stay at Bali Bohemia Huts. Original one-of-a-kind art from local Balinese artists individualizes our 12 distinctly different, spacious and extremely comfortable rooms. Bali Bohemia Huts is a little village, a place where new friendships are made… your little community away from home.
Our friendly and helpful staff is always there to ensure your stay is a memorable one. As the closest accommodation to the Sacred Monkey Forest Ubud Sanctuary, don't be surprised if you get a friendly visit from one of the cute cheeky residents of the Monkey Forest.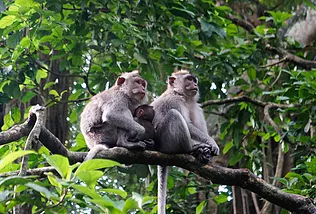 Location
We are located in Nyuh Kuning (meaning "yellow coconut" in Balinese), a small village south of central Ubud. Nyuh Kuning was awarded the title of Cleanest and Healthiest Village in Bali in 2013. Our accommodation is located less than 2 mins walk from the entrance to the Sacred Monkey Forest Ubud Sanctuary and 5 mins to the center of Ubud. The town of Ubud, surrounded by rainforest and terraced rice paddies is known as a center for traditional crafts and dance. The Monkey Forest is a nature reserve and Hindu temple complex, and one of Bali's top tourist attractions. Home to approximately 680 long-tailed macaques monkeys; a visit to the monkey forest is a must on everyone's trip to Bali.